birdyhome.co.uk
Regular price
£235.50 GBP
Regular price
Sale price
£235.50 GBP
Unit price
per
Sale
Sold out
Celebrate a special Wedding Anniversary with this framed print featuring bold lettering with delicate botanical foliage and flowers entwining around the lettering.
This beautiful framed print features modern black numerals (or the letters 'one' for the first anniversary). You can then choose 5 different foliage or flowers which wrap around the lettering or numerals. The flowers or foliage are drawn in a delicate botanical style, there is modern lettering underneath for the couple's names and a date underneath in script lettering.
This framed print is ideal to give to a loved one for a special Wedding Anniversary.
This is a guide to anniversary years:
1st - Paper
2nd - Cotton
3rd - Leather
4th - Linen (Silk)
5th - Wood
6th - Iron,
7th -Wool/Copper
8th - Bronze
9th - Pottery (China)
10th - Tin/Aluminum
11th - Steel
12th - Silk
13th - Lace
14th - Ivory
15th - Crystal
20th - China
25th - Silver
30th - Pearl
35th - Coral/Jade
40th - Ruby
45th - Sapphire
50th - Gold
55th - Emerald
60th - Diamond
The completed framed print will be wrapped in tissue paper, with a gift card and Birdyhome sticker and carefully bubble wrapped and packaged.
You can choose a 10" x 10" print in a quality wooden frame in a choice of white, black or oak veneer. Or also available as an unframed 10" x 10" print which will be finished with a hard back and cello envelope or as an unframed 10" x 10" print finished in a 30cm x 30cm high quality mount. 
Available in matt white, oak veneer and matt black wooden frames.
You can choose different types of flowers and foliage for this framed print. Choose from beautifully drawn green foliage, lilac flowers, white roses, red flowers or white and yellow flowers. Add your chosen names at the bottom of the print with the date of the wedding. Guaranteed to look stunning in most interiors and perfect to celebrate a Paper (First) Anniversary.
We appreciate that you would like to receive your personalised order as soon as possible without any loss of quality, so we aim to dispatch your package within 24 hours (working days) of receiving your order.
The frame is made from high grade pine sourced from sustainable forests. It has a glass panel and a hook at the back for easy hanging. The picture is printed on white 160gsm chlorine free, archival quality card.
image size:  large H24.5cm x W24.5cm
frame size:  large H28cm x W28cm
Take a look at these...
https://birdyhome.co.uk/products/personalised-anniversary-bubbles-labels
https://birdyhome.co.uk/products/personalised-anniversary-flowers-framed-print
Share
View full details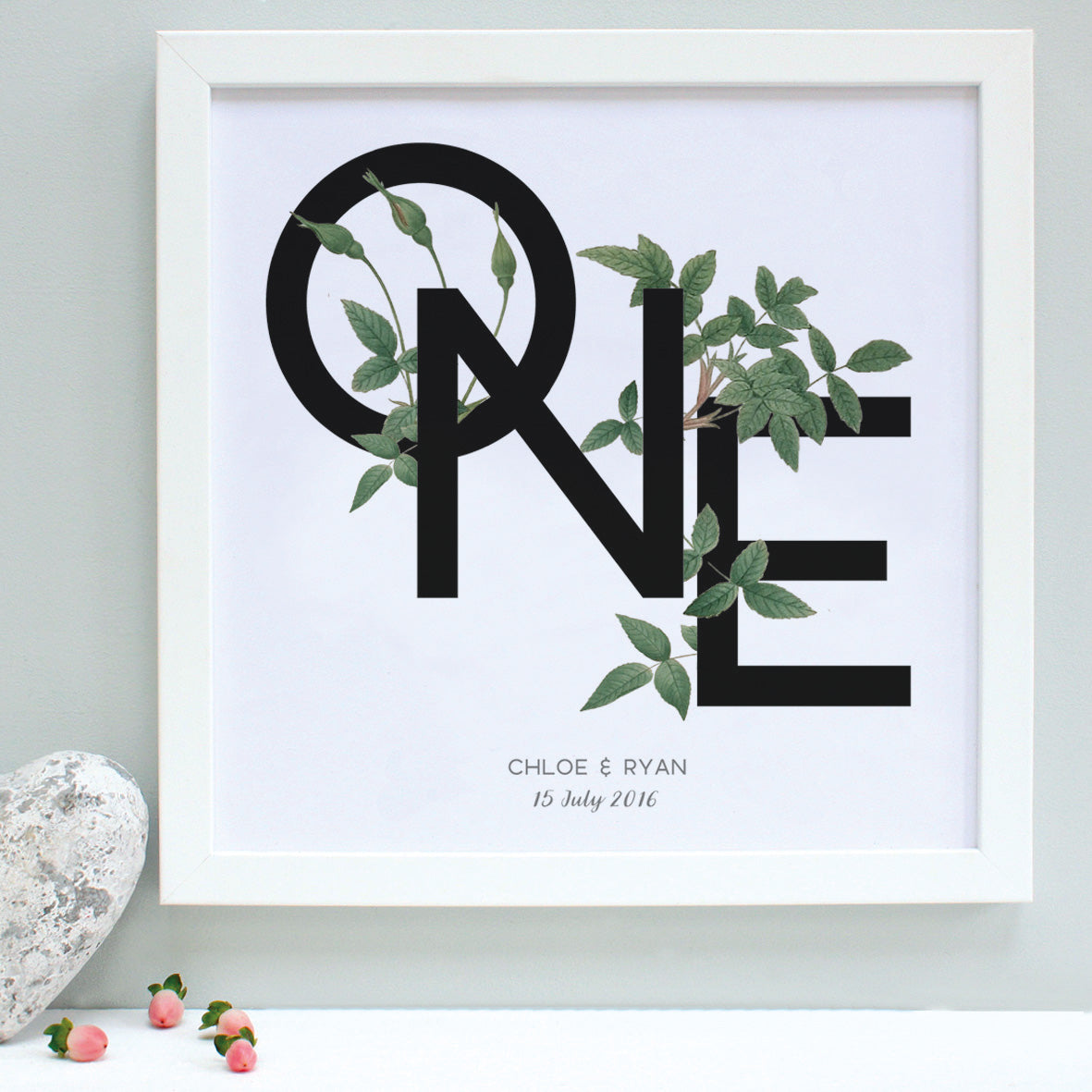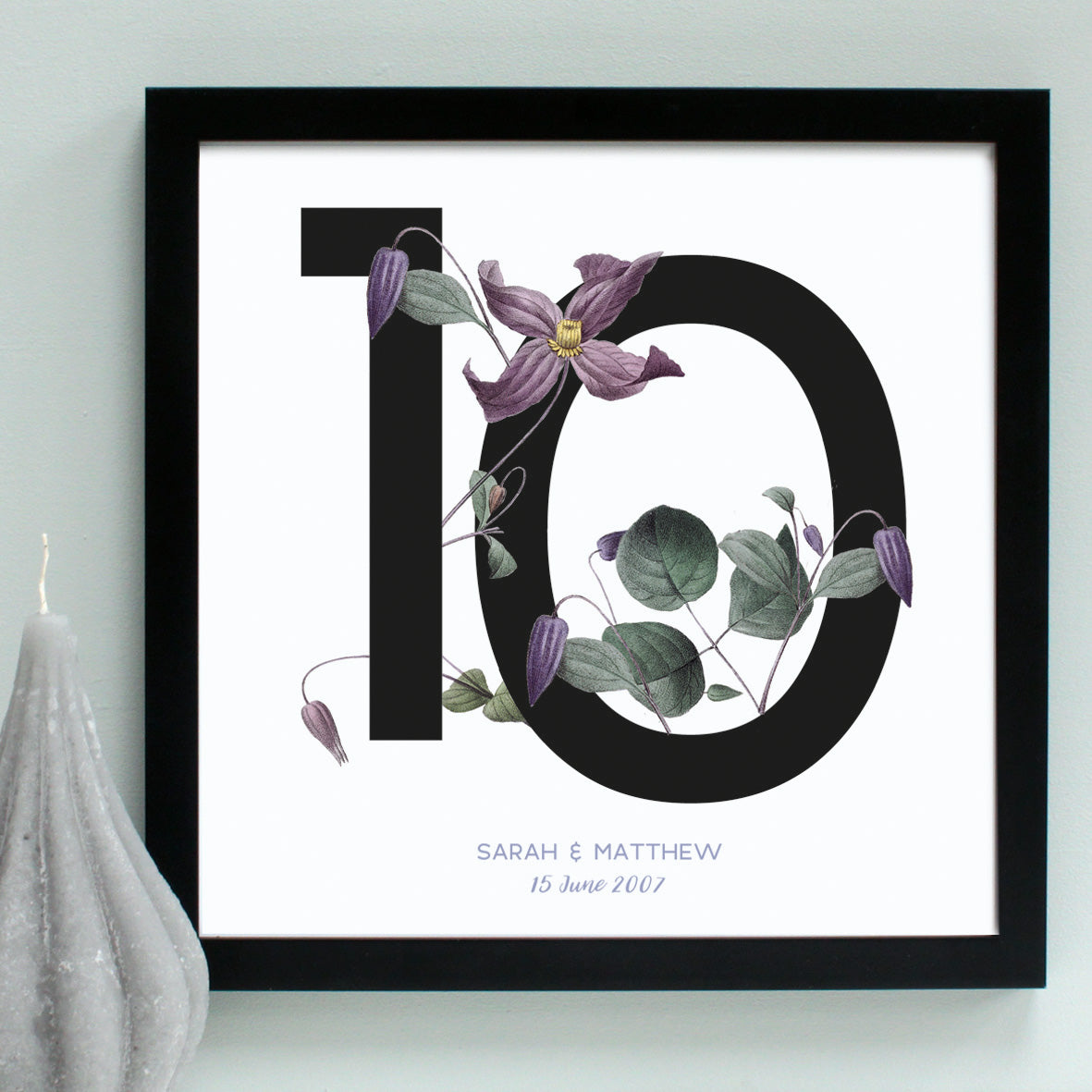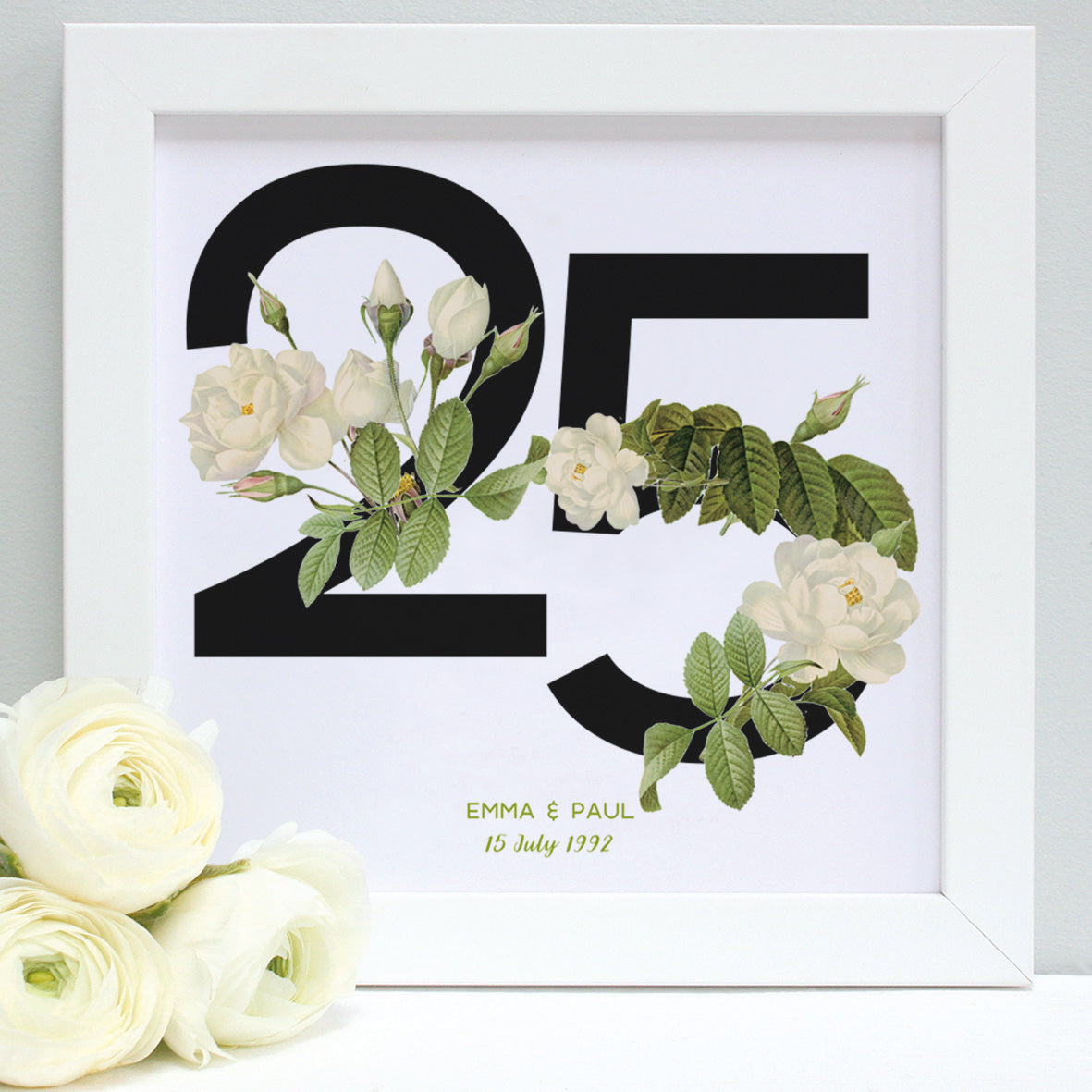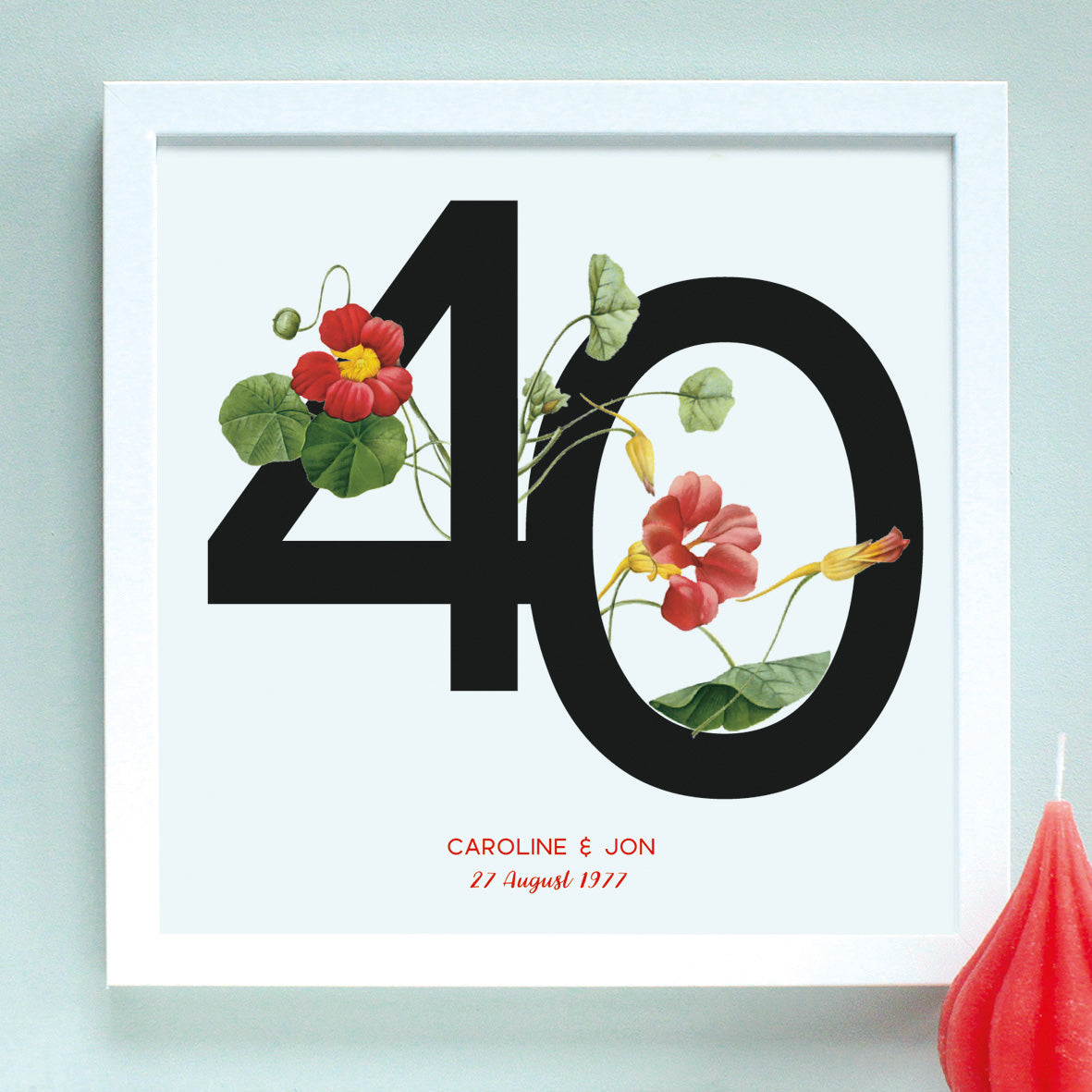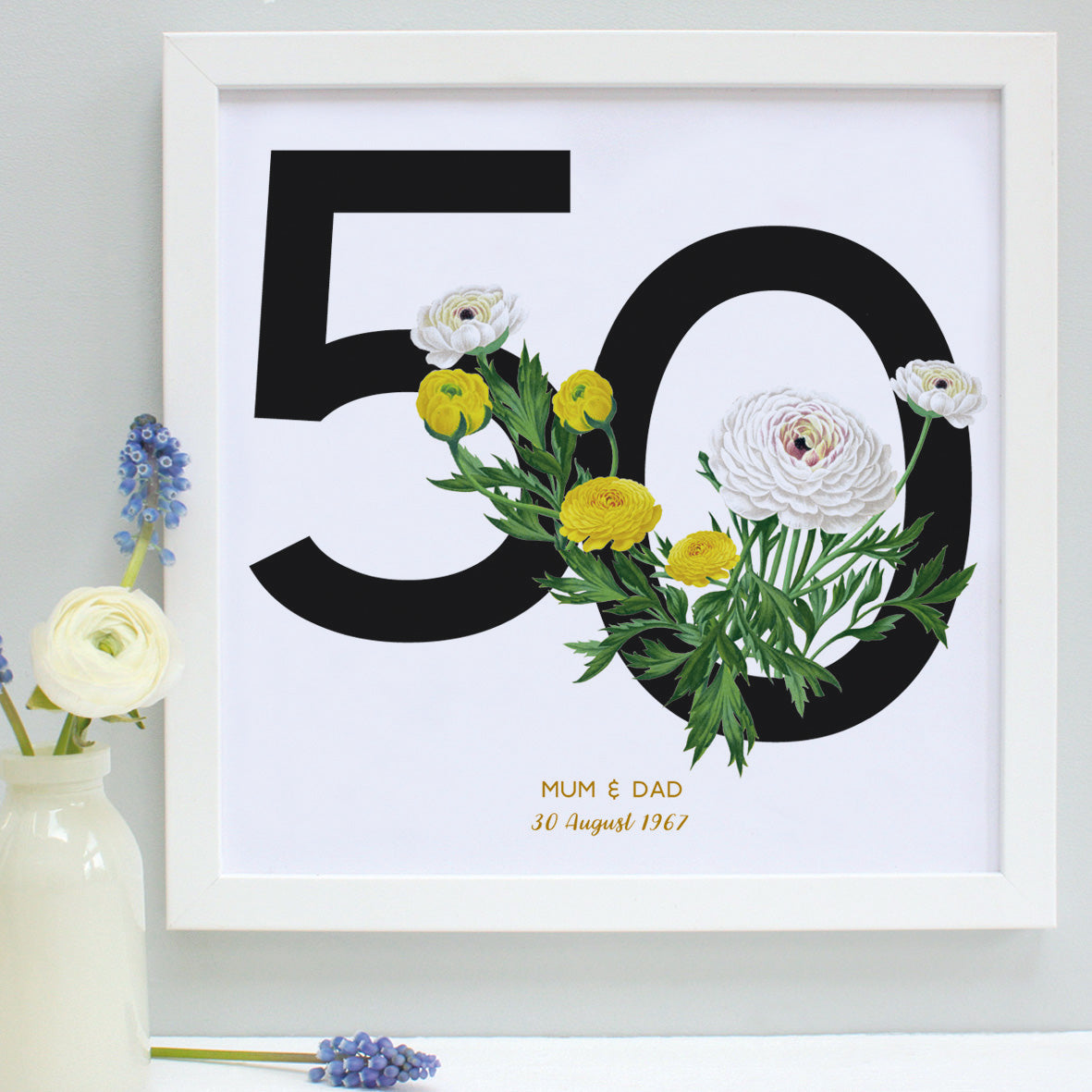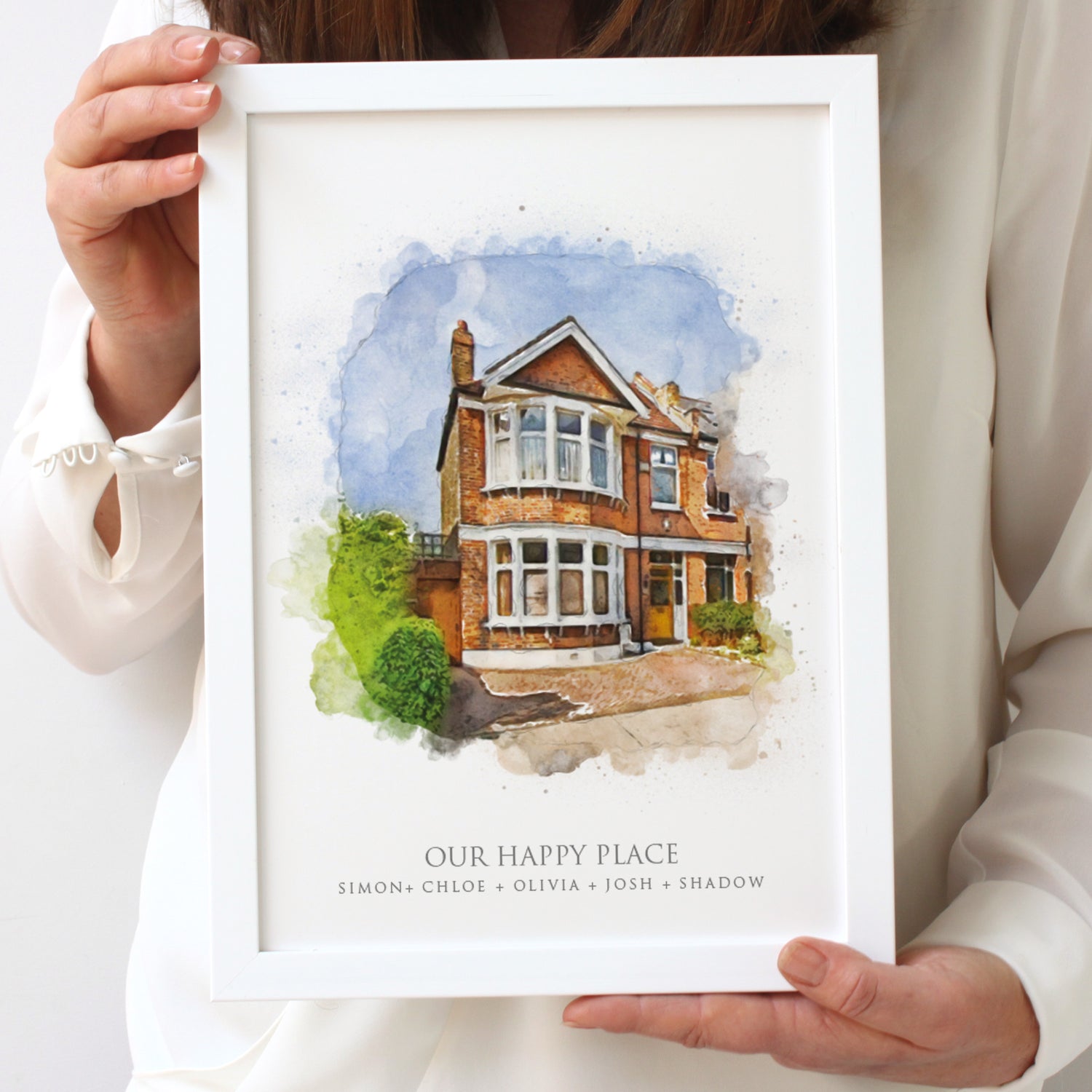 Ready for Gifting
If choose to have your print framed, your order will be wrapped in crisp, luxury tissue, carefully packaged and comes in a sturdy box. If mounted, your order will be mounted with a backing board then completed in a cellophane envelope. Or if you choose a simple print, this will come with a backing board and presented in a cellophane envelope. All ready for gifting!
More about Birdyhome